Mount Fuji Virtual Challenge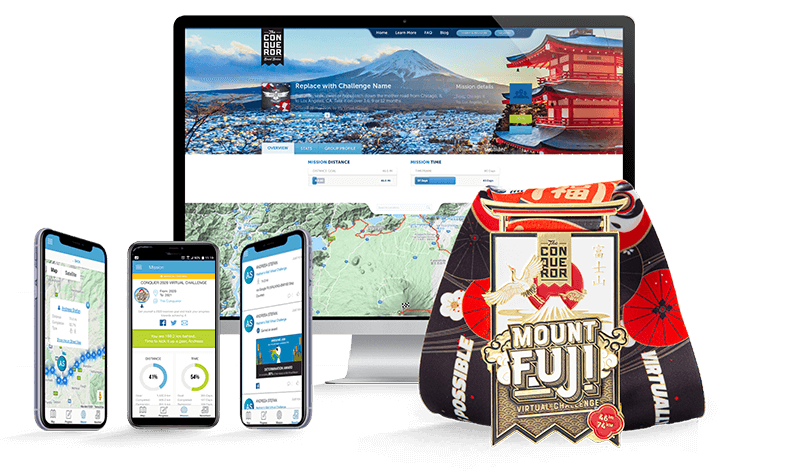 We start shipping the next Mt Fuji medals mid December.

Sign up now to reserve your medal.
The Mount Fuji Virtual Challenge will take you through a breathtaking 46 mile (74 km) journey to Mount Fuji, also known as Fujisan — the highest volcano in Japan at 3,776 meters (12,389 ft).
Each time you complete a distance-based exercise activity such as running, walking, cycling, etc you advance along the map towards the top of Mount Fuji.
Start your fitness journey with the Mount Fuji Virtual Challenge today and earn a stunning medal!
If you sign up for the Mount Fuji Virtual Challenge, then you're almost guaranteed to complete the 46 miles (74 km).
How can we be so sure? It's because our virtual challenges are designed to make sure you're not going to quit exercising as most people do.
We have proven this with over 100,000 people that used our challenges to transform exercising into a habit after years of not being able to stick with it for more than 2-3 weeks. Here's how it works:
First, we help you set up a SMART fitness goal, and then we give you short and long-term incentives that will motivate you to exercise while having fun.
"A SMART goal?"
Yes, it turns out that one of the reasons why people quit exercising is because they set really bad goals.
You know… the usual "I want to exercise more" or "I want to lose some weight". Those are the opposite of a SMART objective.
You have a SMART goal when that goal is Specific, Measurable, Attainable, Realistic, and Time-bound."
I want to exercise more" is none of that, but what about: "I want to run 46 miles to the top of Mount Fuji in under 8 weeks?"
Specific? Yes, because your goal is stated so clearly. Not only do you know "how much" (the distance) and "when" (the timeframe), but you'll also virtual travel to the top of Moun Fuji—making it even more tangible.
Measurable? Of course, if you have a smartphone or smartwatch then you can track your exercises, but we don't stop here, because we translate your distances into real progress on an interactive map. Do you care about adding 2 more miles? Probably not, but what if that means passing past Lake Motusu?
Attainable? More than ever, because we let you exercise however you want. If you're not into running, walking works just as well, or any other distance-based exercise for that matter. Even if you're the king or queen of couch potatoes, you still walk to the fridge now and then—those steps can count as well.
Realistic? Yes, because we give you the freedom of choosing your own timeframe. You can pick up to 78 weeks! Forget 30-day challenges or randomly set intervals. You and your goals are unique—you know best what deadline to choose.
Time-bound? Of course, you can't even join the challenge without setting your timeframe. Having that deadline will motivate you to exercise NOW rather than later.
And that's how by just joining the challenge, you'll end up having a SMART goal with no effort at all! That's wonderful, but even with the best goals, people would still fail if we wouldn't also give them…
Short and Long Term Incentives
It's simple… if you want to stick with anything for more than a couple of days, you'll need a sustainable way to generate motivation. Your willpower alone won't get you there.
How do we help you generate motivation throughout the entire time of the challenge?
By offering you a lot of incentives—both short and long-term. You'll end up exercising more just to get to the next reward.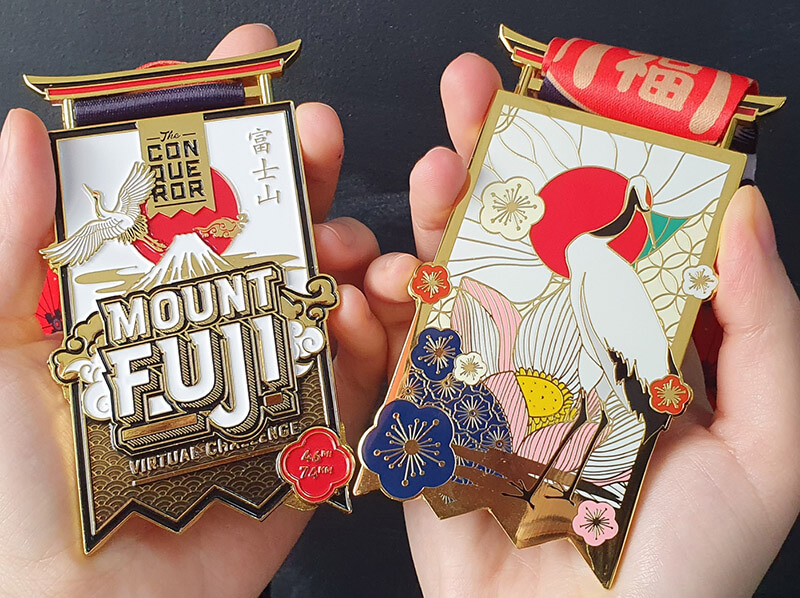 Earn the stunning Mount Fuji medal
Celebrate your achievement with a stunning, limited edition Mount Fuji Virtual Challenge finishers medal.
Medals get mailed to you once you have completed the challenge and are guaranteed to stand out in your medal collection!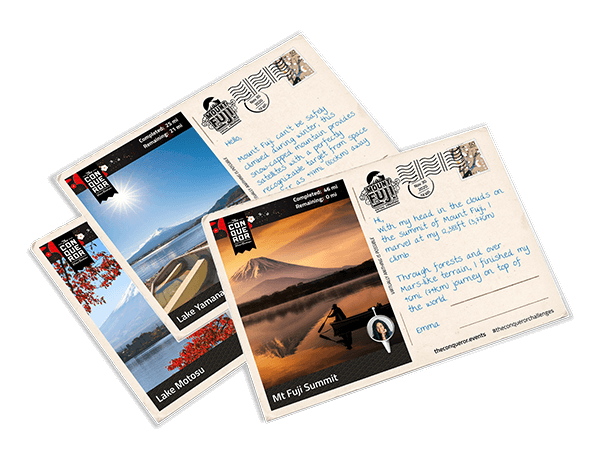 Experience Mount Fuji through Virtual Postcards
Receive custom virtual postcards when you reach certain milestones.
Each postcard contains interesting information about the location. 6 postcards are waiting for you along Mount Fuji.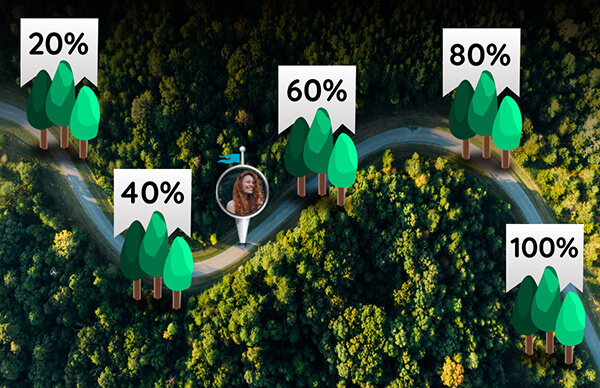 Plant Real Trees as you Progress
We will donate for a tree to be planted for every 20% of the challenge you complete. There's no extra work or cost for you—just make sure you keep exercising!
By the end of the challenge you would've planted 5 trees. Imagine what we can achieve as a community! So far we have planted more than 450,000 trees since August 2020.
 All you have to do is START…
Entry + Medal
US $29.95 | UK £24.95 | €28.95
Entry into the challenge
Stunning finishers medal
Virtual postcards along the way
Enter solo or as a team
Track progress on our mobile app
Street View of your virtual location
Personalized digital certificate of completion
Medal dispatched on completion
Entry + Medal + Apparel
US $59.95 | UK £49.95 | €57.95
All of Entry + Medal
Choose any t-shirt or tank top
2 Mount Fuji designs
Over 10 colors
Men's and women's styles
Sizes XS – 4XL
Free global shipping on apparel
* You can select your apparel anytime after purchase
Frequently Asked Questions
You've got questions, we've got answers - let's do this!
Still have more questions? Click
here
to contact us.
How do I enter a distance towards the challenge?
You can log distances using two methods
Manually - Either on the web or via our iPhone and Android apps. Select your exercise type, add a distance and boom, you're done. You can add a screenshot of your tracker if you wish but it is not required.
Automatically – Via the range of apps and devices that we connect with. Currently we support: Apple Watch, Apple Health, Google Fit, Garmin, Fitbit, Strava, Map My Run, Map My Ride, Map My Walk, Runkeeper.
What's stopping someone from cheating?
We do have a number of ways that we can detect cheaters, however we do realise that no matter what we do or how we structure it people are always going to be able to cheat if that's what they want to do. E.g. Put their Fitbit on their dog!
There are no prizes for first place.
If someone wants to cheat then they are only really cheating themselves and wasting their money.
How long does it take to complete the full distance?
 The amount of time it will take you or your team to complete this journey depends on your fitness level, exercise type and team size. 
You can set your own timeframe goal from 1 week to 18 months to complete each challenge. This goal can be easily changed at any time if you want to extend or shorten it.
When can I register for the challenge?
You can start this fitness challenge any time and from any location around the world. Registrations are open now so feel free to sign up and make a start.
We've made it as flexible as possible so you can backdate your start date to whatever date you want as long as it's after the date we launched the challenge.
Can I enter multiple challenges at once?
Yes - You can enter as many challenges as you like and post your distances to each of the challenges.
You can either post all your distances to all of your challenges or you can decide what types of distances go to which challenges. e.g. you might want to send your walking distances to one challenge and your cycling or swimming distances to another challenge. It's completetely up to you.
What types of exercise count?
You can log most types of distance based exercise such as running, walking, cycling, swimming, rowing etc. For other non distance based exercise such as yoga or cross fit, we have a handy conversion chart that converts time doing these activities into distance equivalents that you can use.
Can I log multiple exercise types?
Yes - You can log any distance based exercise that you do. The common ones that we have icons for are:
Running (indoor and outdoor)
Cycling (indoor and outdoor)
Rowing
Walking
Skiing
Swimming
Eliptical
Wheelchair
All others can be logged to the "other" category.
You can also convert other exercises such as sports that you play or going to the gym etc into distances. We can provide information on some ways to do this.
How long does the challenge go for?
You get to choose how many weeks you want to aim to complete the challenge from 1 week to 18 months. This goal can be easily changed at any time if you want to extend or shorten it.
And you can change this goal as many times as you like during the event.
How do teams work?
Teams are a fun way to take part in The Conqueror Virtual Fitness Challenges.
**Note that each team member is required to purchase their own entry into the challenge. Each team member will receive their own medal at the end**
Basically you share the distance with the other people in your team.
Your team will have your very own team icon on the map.
Each time a team member posts a distance your team icon will advance up the map.
Your team will also be represented on the leaderboard.
You (as in you personally) will also be able to see information about your own achievements and rankings separate from the team.
The distance doesn't have to be divided evenly among team member. You can team up with guru athletes and people just starting out!
So hustle up your friends or workmates and join the fun!
From which countries do you accept entries from?
We warmly welcome entries from all over the world and we offer global shipping on medals and apparel.
On average we have people from over 80 countries from around the world enter our challenges each month!
Join our global community of virtual fitness enthusiasts!
How do I access the challenge once I've signed up?
The Conqueror Challenges are powered by My Virtual Mission which is our own web and mobile application that we started in 2013.
When you sign up for the challenge you will automatically be set up with a My Virtual Mission account where you can log in and access the challenge.
How much does it cost to enter?
Please view the pricing on the pricing table above.