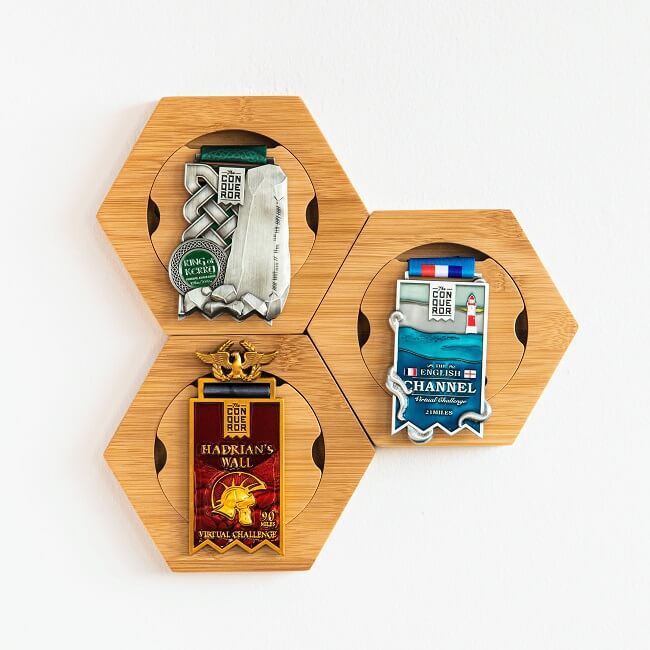 The Honeycomb is BACK!
Over the years we have received hundreds of requests for a Conqueror Medal Hanger and we finally have something that matches the beauty of our medals.
But finding the perfect solution was not simple… How can you display multiple medals together while emphasizing their details?
Our answer is a premium Honeycomb Medal Hanger system. This modular display system is designed to grow with your achievements.
Dimensions: 140 x 160 x 20 mm / 5,5 x 6,3 x 0,8 in
If you want to be one of the first that gets a Honeycomb Medal Hanger, then please use the button below to order. There is a very limited number of items and we think this will sell out instantly.
Build Your Legacy – Piece By Piece
Turn your Medal Display into a Piece of Art
The blocks easily attach to the wall using 2 double sided tapes (no need for nails).
Each component also features a removable part that allows you to rearrange your medals as you wish without having to remove the main block from the wall.
The hexagon shape makes it easy to create awesome patterns. Are you ready to build your own honeycomb?
Showcase Your Hard-Earned Medals
In contrasts to the normal medal hangers, the Honeycomb system makes each medal feel special — as it should.
Another advantage is that this wooden hanger looks good even if you've just recently started participating in challenges or races and only have a 2-3 medals.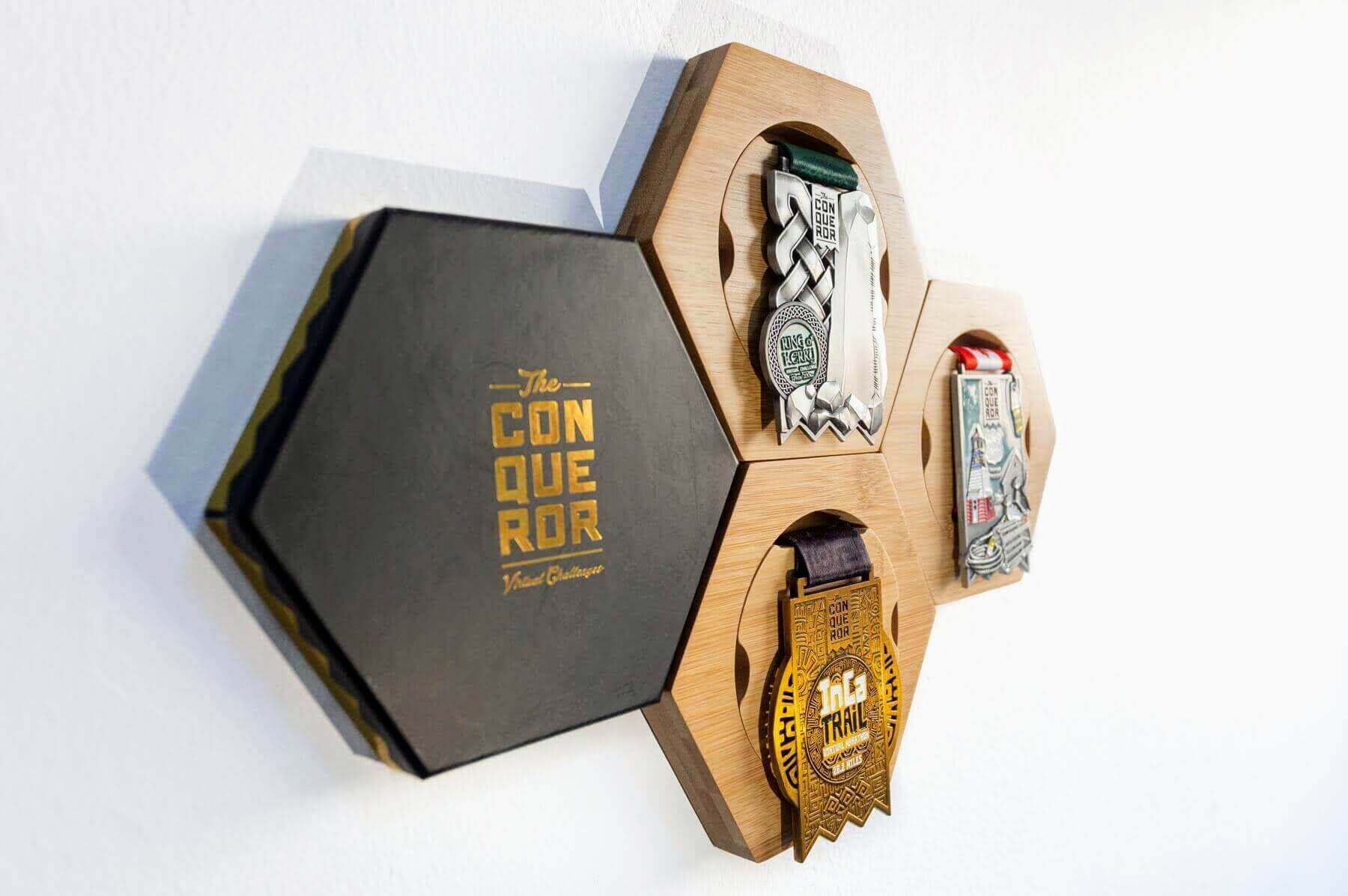 How big do you want your Honeycomb to be?
Custom Fees might apply if you order from outside of the US
10x Honeycomb Medal Hanger Pack
​​US $199.9 | UK £149.9 | EU €169.9
​​US $139.93 | UK £104.99 | EU €118.99
Get 30% OFF for:
10x Medal Hangers
Stylish and Modular Design
Quick Installation
Easy To Rearrange Your Collection
No Extra Tools Required
5x Honeycomb Medal Hanger Pack
​​US $99.95 | UK £74.95 | EU €84.95
​​US $74.96 | UK £55.99 | EU €63.99
Get 25% OFF for:
5x Medal Hangers
Stylish and Modular Design
Quick Installation
Easy To Rearrange Your Collection
No Extra Tools Required
3x Honeycomb Medal Hanger Pack
​​US $59.97 | UK £44.97 | EU €50.97
​​US $47.97 | UK £35.99 | EU €40.99
Get 20% OFF for:
3x Medal Hangers
Stylish and Modular Design
Quick Installation
Easy To Rearrange Your Collection
No Extra Tools Required
1x Honeycomb Medal Hanger
US $19.99 | UK £14.99 | €16.99
1x Medal Hanger
Stylish and Modular Design
Quick Installation
Easy To Rearrange Your Collection
No Extra Tools Required
Order to be One of the First to Get
a Honeycomb Medal Hanger