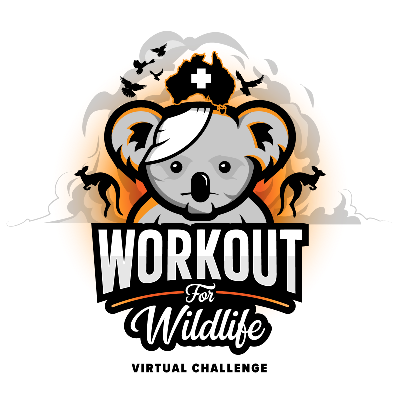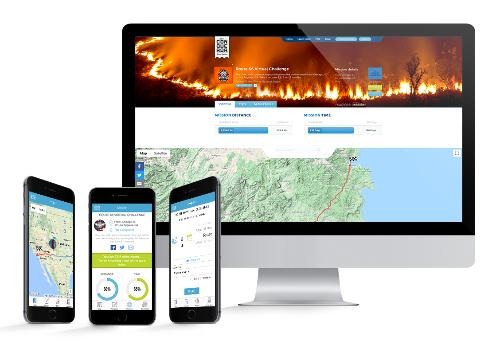 100% of funds raised go to Australian wildlife aid organisations
Entries are now closed but you can view the challenge page here
 
The devastation that the bushfires in Australia has caused is almost beyond belief. At least 24 people have been killed, thousands of homes destroyed and people displaced. More than 6.3 million hectares of bush have been burned and an estimated 1 billion animals have died in the most horrific of ways. 
We've created a new challenge called "Workout for Wildlife" where 100% of the funds raised will go to Australian wildlife aid organisations: WIRES (NSW), Wildlife Victoria and Fauna Rescue of South Australia. Charities that are working incredibly hard to rescue and care for animal victims of this unfolding tragedy.
Challenge info
Run, walk, cycle or swim 100km from Victoria to NSW through affected areas on our virtual map

Progress along the path every time you run, walk, ride or do any distance based activity

Up to 2 months to see how far along the pathway you can get

Choose your own entry donation from $5 AUD to $100 AUD

Enter from anywhere in the world

100% of funds raised go to the charities

Google Street View along most/all of the pathway
We encourage you to step up for Australia's time in need.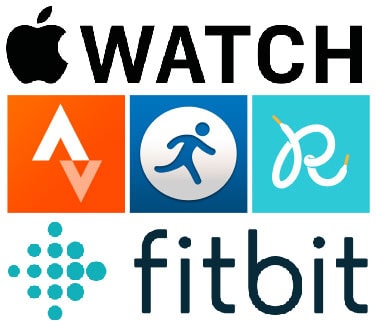 Connect your favourite apps
Sync with your favorite fitness tracker or log distances manually within the web/mobile app.
Currently we support: Apple Watch, Apple Health, Google Fit, Fitbit, Strava, Map My Run/Ride and RunKeeper with more coming soon!
You can step up to the challenge by joining it on the challenge page.
1. Click here to visit the challenge page hosted by My Virtual Mission
2. On the challenge page, click the white "Join" button
3. Sign up or sign in to a My Virtual Mission account
4. Progress through the checkout
5. You're in! Thanks for helping this great cause and good luck with the challenge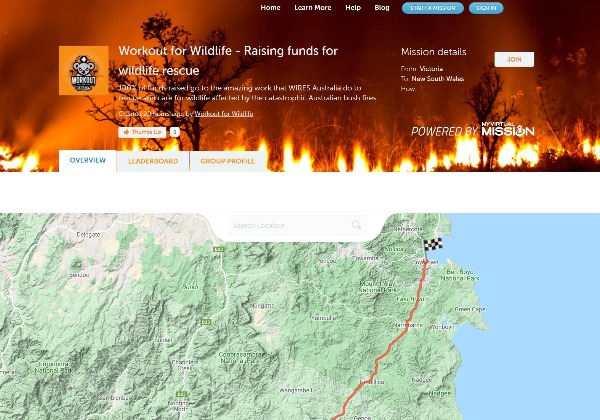 How do I enter a distance towards the challenge?
You can log distances using two methods
Manually – Either on the web or via our iPhone and Android apps. Select your exercise type, add a distance and boom, you're done. You can add a screenshot of your tracker if you wish but it is not required.
Automatically – Via the range of apps and devices that we connect with. Currently we support: Apple Watch, Apple Health, Google Fit, Fitbit, Strava, Map My Run, Map My Ride, Map My Walk, Runkeeper.

We don't yet have a direct connection with Garmin but many people send their Garmin distances to either, Strava, Runkeeper, Apple Health or Google Fit and then on to their challenge.
What are the details with the funds raised?
The charities that we have selected are WIRES (NSW), Wildlife Victoria and Fauna Rescue of South Australia.
The only fees deducted from an individuals entry fee will be the credit card processing fee of around 3.8%. The net amount we receive will be forwarded to the charity.
We are a New Zealand registered company called Actionary Limited. 
We have significant costs of our own to bring you this challenge and we will cover these costs ourselves.
When can I register for the challenge?
Entries are no close sorry!
Can I enter multiple challenges at once?
Yes – If you are doing any of our other challenges you can do the Workout for Wildlife challenge along side them. When you post a distance to your other challenges it will also post the distance to this challenge. 
Alternatively you can set your posting preferences so that certain types of exercises post to different challenges.
What types of exercise count?
You can log most types of distance based exercise such as running, walking, cycling, swimming, rowing etc. For other non distance based exercise such as yoga or cross fit, we have a handy conversion chart that converts time doing these activities into distance equivalents that you can use.
What distance do I need to cover?
The Workout for Wildlife challenge is 100km in length.
You accumulate your distances and progress along the pathway from the start towards the finish with each exercise session you complete. 
How long does the challenge go for?
The Workout for Wildlife challenge is open for 8 weeks from when you sign up
From which countries do you accept entries from?
We warmly welcome entries from all over the world.
How do I sign up?
Entries are now closed sorry!
How much does it cost to enter?
Entries are from $5 AUD. You also have the option to choose your own entry donation amount up to $50 AUD. 100% of funds raised goes to the WIRES charity