You can now hike the Inca Trail to Machu Picchu from anywhere in the world

This "virtual Inca Trail" uses online street view, postcards, and an interactive, real-time map to let you walk the famous trail that leads to Machu Picchu from anywhere.
The Inca Trail is one of the most visited tourist attractions in the world, and for good reason. The 26.2 miles long trail leads you to Machu Picchu — one of the new 7 wonders of the world.
Over 1 millions people hike this trail each year, especially in the summer. This year, the pandemic stopped people from visiting, as Peru fights to keep the virus under control. But a virtual Inca Trail marathon is making it possible for people all over the world to "hike to Machu Picchu," from wherever they are.
Signing up for this virtual marathon includes the following benefits:
Finisher's medal shipped upon completion
Virtual postcards along the route
Ability to track your progress through an interactive map on web or mobile app
Street view of your virtual location
Personalized digital certificate of completion
A supporting community that cheers you along the way
Historical information about the trail and Machu Picchu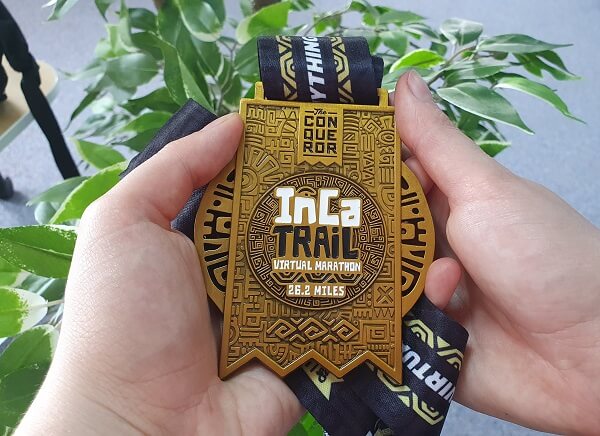 One of the Inca explorers-from-home is Emilia Barrett, a London mom who had to work remotely since April. She decided to do the virtual marathon as a way to stay fit and to release the stress that was building up during the lockdown.
"I found out that working from home while also taking care of my two boys is very stressful," she said. "Running was my main antidote to stress, but this whole situation sapped out all my motivation to go and exercise."
With so many things competing for her attention, Barrett discovered that it was hard to give herself the time she needed to run, but this virtual marathon intrigued her. When a friend sent her information about it, she thought it would help her escape the everyday routine. This virtual experience would also help her fill the need to travel.
"I love to travel," she said, "and Machu Picchu is on my bucket list so this was perfect for me: staying in shape while also exploring this trail in Peru."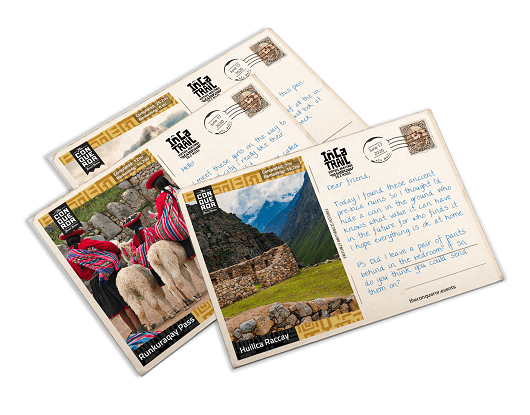 "I imagined myself as running on the actual trail," Barrett said, "and checking out my surroundings on Street View made this feel even more real."
She's greatly enjoyed the virtual Inca Trail marathon, and for anyone dealing with stress, she has these words of encouragement:
If you are even considering doing this challenge, just dive right in and sign up! The beautiful medal alone is enough to motivate you to complete the whole route. It is a great way to challenge yourself physically and mentally. I have enjoyed receiving the postcards with more detailed information of where I am on my journey. It is also pretty neat to see how many other people are on the journey too.
The virtual Inca Trail can be a source of motivation and physical growth, even during the toughest times.
"I think so many people feel the pressure of everything that's been happening lately," Barrett said,."This challenge helped me reclaim the time I needed for myself."