We all struggle with our mental health from time to time. For many of us out there, it is even more than this.
Finding a way to improve our mental health doesn't always seem easy. We can end up feeling as if we are stuck in a bad place with no way to make progress or move forward. The problem is that this often ends up as a vicious cycle too. We feel rubbish so we don't do much, then we feel more rubbish because we aren't doing much!
264 million people suffer from depression worldwide. So for many, this vicious cycle will be a familiar story.
Why is this happening?
Naturally, there are many different reasons and contexts behind depression. One concept is pretty common, however, and that is the one we want to focus on in this article. This idea of being stuck in a "rut" that you can't get out of. Going round and round the same routine with no way to change or start a better path. This very often comes down to a lack of motivation, goal setting, and a supportive environment in which to meet those goals.
Does that sound familiar to you?
For that particular problem, we think we may have found the answer.
Story of The Conqueror Virtual Challenges
The Conqueror Virtual Challenges hit the market in 2016. It was started by founder and CEO Adam who decided that he wanted to challenge himself to get out of a rut of low motivation, no exercise, and little progress. He felt motivated by the thought that he could add up all of his exercise sessions, calculate the distance, and see if that distance would reach right down to New Zealand.
When he went to the app store to find an app to help with this, he was stunned by the fact that no such thing existed yet.
And so, The Conqueror Virtual Challenges was born.
Since its debut, The Conqueror has helped over 850,000 people globally with their lifestyle goals. There are currently plenty of different virtual challenges available, with 5 special THE LORD OF THE RINGS routes in partnership with Warner Bros. Consumer Products. These virtual challenges can transport you to a location of your choosing while you work to input the distances needed to complete the route and cross the finish line.
Over 40 iconic routes were launched since Adam was pencilling in his treadmill distances on a piece of paper but the values underneath are still the same.
Virtual challenges aim to help people get up and get out there. They intend to help people find their groove with exercise again even when they have been out of the game for a while. The challenges help with motivation, goals, a sense of progress, and community connection.
Here's how:
The Setting of Concrete Goals
In Adam's story, what helped him finally get off that couch was setting a goal he could visualize. Getting away from repetitive, grey office work life was much easier when he could think of his goal of New Zealand. He could imagine himself working steadily towards that finish line and finally reaching his target.
Virtual challenges from The Conqueror now aim to help others to do the same. It is the concept of goal setting that is one of the first ways we can see that virtual challenges would help those struggling with their mental health.
As we have mentioned, when we are feeling down or dealing with something difficult, it is very easy to get stuck in a vicious cycle. We can feel consistently low energy and even exercise-avoidant. When we introduce a goal into this scenario, it can help to break this cycle over time. Imagining something positive and real that we can work towards helps shift our focus to forward-thinking rather than ruminating.
Upon signing up for one of the many virtual challenges available, you can pick which challenge you would like to do, how long you want to take to do it, and what activity you want to do to help you get there. The power is in the user's hands to create their own goals and stick to them. Something like that is very beneficial for those stuck in a rut right now.
Joining a Community of Like-Minded Others
Many of the stories we can see on The Conqueror's social media pages focus on success stories of mental health improvement. Lots of people out there are keen to share their stories of how completing a challenge has given them a lift in their life and they want to convince others to give it the same shot.
What's interesting is that it is this very community of like-minded others that is one of the main contributing factors to that success. The Conqueror community helps to drive motivation and connection throughout those taking part in the challenges. Connection is a huge part of dealing with mental health struggles, and creating this virtual community was a stroke of great insight from the creators.
We know we can't do the hard stuff alone. Luckily, when you are doing a virtual challenge, you don't have to.
Seeing Progress
When The Conqueror asked their virtual challengers, they found that over 70% of the people using the app think that the concept of seeing constant process is their main motivator for continuing with their challenge.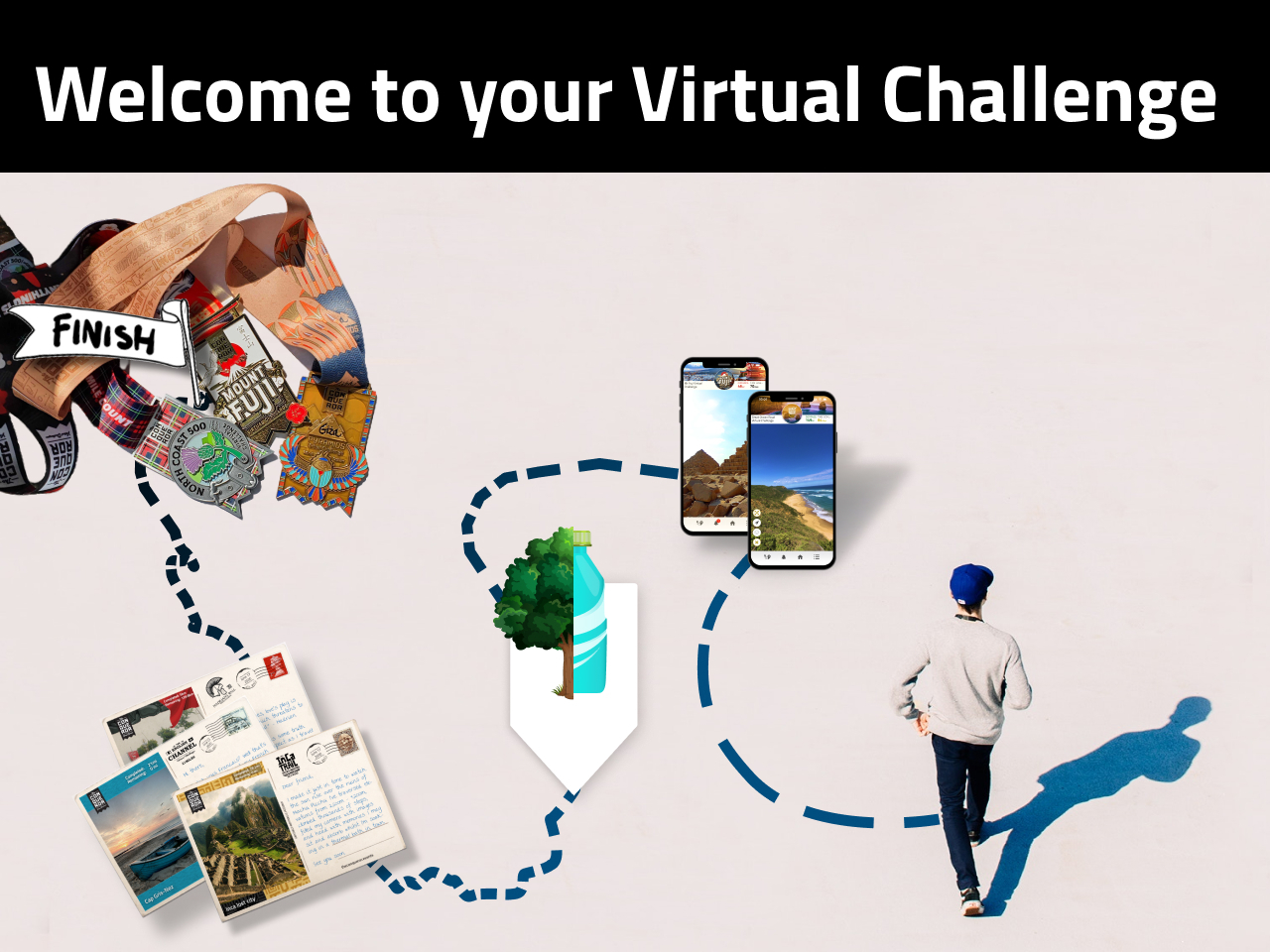 Seeing ourselves make progress is a big benefit for our mental health. When we are down, sometimes all we can see is the negative stuff. We think about all the things we haven't done and haven't achieved. Low mood specifically targets our functioning and ability to get up and do things too, so this is usually where we are beating ourselves up the most.
When we get out there and start making progress. Things can change really quickly. Being able to see exactly what progress we have made right in front of us helps even further. It very often can give us that boost we need to keep going.
Having Fun!
Finally, it appears that The Conqueror Virtual Challenges are helping users with their mental health simply by encouraging them to have a little fun.
In the app's initial metrics, more than 50% answered that improving their mood and/or mental health was their main goal in completing their virtual challenge. An increase in mood is a huge factor in exercise and The Conqueror has harvested this in a powerful way.
Combining interesting and exciting routes with daily exercise is a great way to keep things fresh and fun. There is something about walking through your local park and virtually seeing the sights of Niagara Falls right in front of you. It helps you break out of the daily routine and into something more creative and imaginative.
Sometimes adult exercise options are really lacking in that sense of fun. When we are children we focus on fun and play to get our bodies moving, why would we forget that as adults?
The Conqueror certainly hasn't forgotten about it. You can have fun with every virtual challenge for weeks and months on end.
If this sounds like something you want to do, why not give it a go? You can work on goals of increasing your mood and improving your mental health easily with a virtual challenge.
Check out our portfolio, www.theconqueror.events, and download the app on the App Store or Play Store to get started.