The Conqueror Virtual Challenges, in collaboration with Warner Bros. Discovery Global Consumer Products, proudly presents Game of Thrones Virtual Challenges, an epic and immersive virtual experience inspired by the iconic HBO series. Participants worldwide can now embark on a remarkable journey through the world of Westeros and Essos, bringing their love for the show to life in an unprecedented way.
Unlike any other virtual fitness event, this series of five challenges follows the footsteps of iconic characters as they fulfill their destinies. One can now join Jon Snow in a daring adventure in Beyond the Wall Virtual Challenge, witness Tyrion Lannister's path of redemption in The Hand Virtual Challenge, experience Arya Stark's transformation in Valar Morghulis Virtual Challenge, follow Daenerys Targaryen as she builds her army in Mother of Dragons Virtual Challenge, and culminate their quest with The Iron Throne Challenge, where they have the chance to claim the ultimate seat of power themselves.
Participants can curate their own path in the Game of Thrones challenges, conquering each challenge in any order or simultaneously for a personalized adventure. However, to unlock The Iron Throne, the ultimate challenge, one must complete the previous four challenges.
Sports enthusiasts and fans of this iconic series are invited to behold the Game of Thrones epic, witnessing the journey across Westeros and Essos. With a custom-made map showcasing all five routes on a single canvas, participants will follow in the footsteps of their beloved characters, passing by iconic locations such as Castle Black, King's Landing, and Winterfell.
Each challenge is accompanied by captivating content, including Collectible Cards that highlight the most iconic characters of Game of Thrones, Virtual Postcards that showcase memorable events and Houses from the show, as well as Local Spots that provide insights into the lore. Participants can make progress on the map by tracking and logging their progress in the app, whether it be through running, cycling, swimming, or simply walking the challenge distance.
As participants conquer each challenge, they will be rewarded with a themed medal that represents the character and their journey. Completing all five challenges enables the participant to collect all five unique medals, showcasing their triumphs and dedication to the realm. As an additional perk, they have the option to display their hard-earned medals on a Game of Thrones Medal Hanger, proudly showcasing their victories.
Just as alliances shape the fate of Westeros, participants are encouraged to form teams within The Conqueror Challenges App, rallying together to harness the power of camaraderie and collaboration. They conquer the challenges side by side, mirroring the strength and unity of their favorite characters. However, the choice is theirs to make. They also have the freedom to embark on this journey individually, relying on their own determination.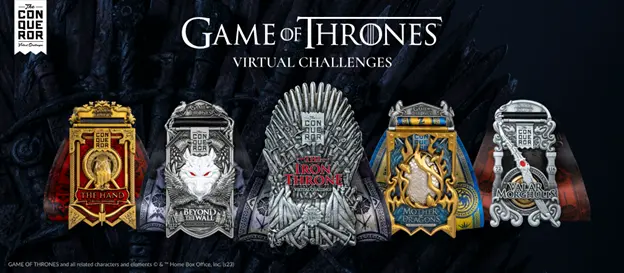 "Our team is excited to launch the Game of Thrones Virtual Challenges", says Raul Vintila, CEO of The Conqueror Virtual Challenges. "We believe that everyone will love virtually traveling through Essos and Westeros and experiencing the series in this way. We designed our amazing app and medals in order to motivate people to form healthy habits, stick to them and reach personal goals. Throughout the process, we kept fans of the series in mind, and we are convinced that the result will impress them."
Starting today, participants can sign up for the challenges in the form of a single entry (one code to access one challenge) or as a bundle (all five challenges together). For more information on the available distances and to sign up for the challenges, visit the dedicated landing page.
Game of Throne is available to stream now on Max.
###
About The Conqueror Challenges
The Conqueror Challenges are a series of virtual fitness events that anyone in the world can participate in. Anywhere, anytime. The Conqueror challenges have helped over 900,000 people from over 100 countries stay motivated to exercise by challenging themselves to complete the equivalent distance of famous routes and trails around the world each time they exercise. For more information visit, www.theconqueror.events.
About Warner Bros. Discovery Global Consumer Products
Warner Bros. Discovery Global Consumer Products (WBDGCP), part of Warner Bros. Discovery Global Brands, Franchises, and Experiences, extends the company's powerful portfolio of entertainment brands and franchises into the lives of fans around the world. WBDGCP partners with best-in-class licensees globally on award-winning toy, fashion, home décor and publishing programs inspired by the biggest franchises from Warner Bros.' film, television, animation, and games studios, HBO, Discovery, DC, Cartoon Network, HGTV, Eurosport, Adult Swim, and more. With innovative global licensing and merchandising programs, retail initiatives, and promotional partnerships, WBDGCP is one of the leading licensing and retail merchandising organizations in the world.
Media Contact The Conqueror
Alina Mitu, Head of Campaigns, The Conqueror Virtual Challenges
Media Contact Warner Bros. Discovery Global Consumer Products
Phyllis Liu