So, you've made the decision and taken the leap. You're going to do a virtual challenge.
Good for you!
There are so many positive things in store for you once you begin your virtual challenge journey. You are about to start a journey to a healthier you, a happier you, and a more motivated you.
If you've tried to get into shape or to stay in shape before and it hasn't worked out, don't worry. That won't happen this time around. The Conqueror Challenges are here to help you set your own goals and to help you stick to them. Once and for all.
But you know that, right? Or why else would you be here?
So, with all of that good stuff in mind, let's jump into telling you exactly how to sign up for a virtual challenge. We're going to make it as easy and as exciting for you as possible.
Let's get into it!
Getting started
So, you're looking at the Conqueror Challenges website and scrolling through all the amazing challenges on offer.
You see different routes, locations, distances, Conqueror challenge medals, virtual postcards, and so much more.
What does it all mean? And how do you pick one?
The Conqueror challenges all have the same premise but with different routes and distances. They range from the shortest distance of 20 miles —the Angkor Wat route — right up the longest distance of 2,485 miles in the Pacific Crest Trail, which follows a route high up in the Cascade and Sierra Nevada ranges in the U.S.
The routes come from all over the world: Egypt, the Netherlands, the U.K., the U.S., Iceland, Germany, Australia, and more.
With every route you will have the same main goal: finish the route and earn your medal. How you do this is your choice. You can walk, jog, run, swim, even do star jumps. Whatever works for you will count towards the distance needed to complete your challenge.
There are routes that lean towards certain types of activities and there is really something for every challenger, every interest, and every ability.
For example, if you love swimming, the English Channel route would be a perfect beginner's challenge for you. If you are a long-distance runner with some more experience, the Length of the U.K. challenge would suit you well.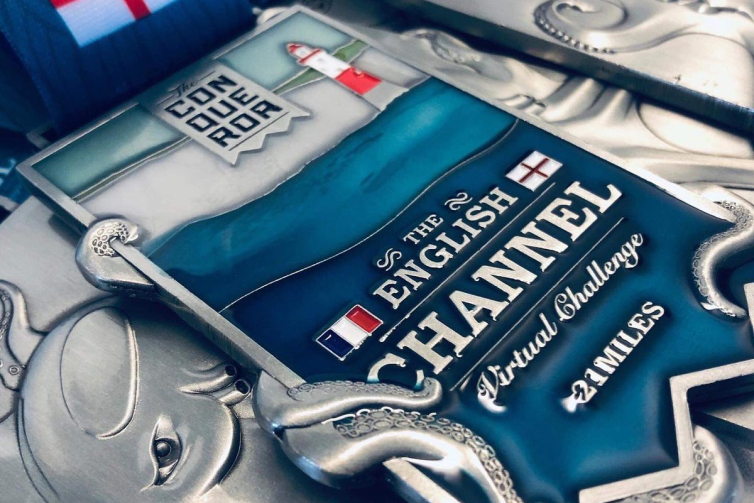 But you are by no means limited. Any challenge that you see, you can do. In your own way.
Whatever exercise activity that you like and that you thrive on, you'll be able to find a challenge that will match up.
The medals that you win are also as diverse as the routes themselves. For each route, there is an iconic medal waiting for you at the finish line.
The medals vary greatly in their design, aesthetics, colors, and themes. These all replicate and represent the countries and cultures of their routes, and they are all truly beautiful to behold.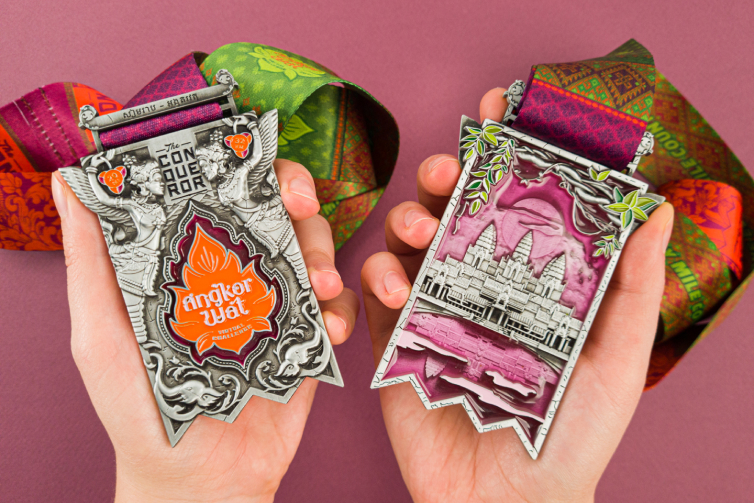 And it's the same thing for the virtual postcards you might have seen mentioned while doing your scrolling.
The longer the distance, the higher the number of virtual postcards you will receive throughout your journey. But no matter the number, they will all be interesting and contain valuable little nuggets of information and culture that will transport you to the location of your chosen route.
No matter what Conqueror challenge you choose, these valuable incentives will be there waiting for you.
As will the eco-friendly incentive you might have spotted.
Every Conqueror challenge includes a promise that for every 20% of your journey that you complete, a tree will be planted. So, for each individual challenge that is completed by one challenger, there will be 5 trees planted.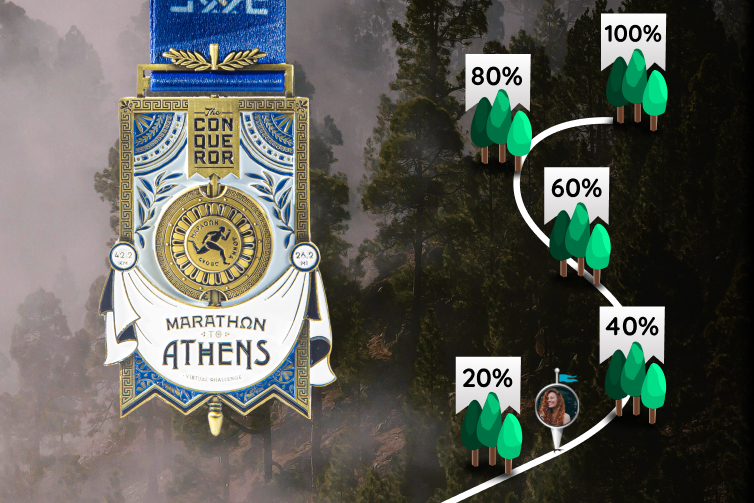 And this is exactly the same for every challenge you can choose, regardless of distance or location.
So when it comes to picking your challenge, you really can't go wrong.
Find what appeals to you and your personal interests the most and all the positive benefits and incentives will be there to support you in your challenge regardless of which one you choose.
You can simply choose what you like.
No pressure and no privilege.
There is a challenge for every person and every challenge will provide that person with the chance to reach their goals.
Making the choice
Once you've decided on the challenge for you, there is only one more decision left to make.
When you pick your challenge you will be presented with two package options, entry + medal, or entry + medal + apparel.
With the first option, you will receive everything we've talked about so far: entry into your challenge, street view of your chosen location, virtual postcards, progress tracker, your medal dispatched on completion of your challenge, as well as a digital certificate issued on completion.
With the second option you will receive all these lovely perks and incentives in addition to your choice of a piece of apparel to go with it.
You can choose from a t-shirt or tank top with a design related to your challenge. This will give you something to wear while you complete your challenge and make you feel like part of the team.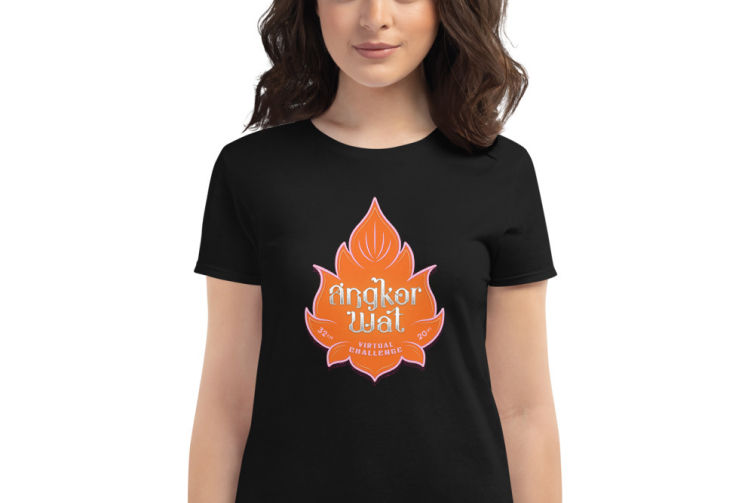 The t-shirts and tanks come in 10 different colors, 2 different location designs, men's and women's styles, sizes ranging from XS to 4XL, and all with free global shopping. There is something that will suit everyone, which is a running theme within the Conqueror challenges, wouldn't you say?
Aesthetics aside, this piece of clothing will help you represent your chosen challenge and all that goes along with it. It will help you feel part of the whole process and help keep you motivated and engaged.
And, hey, who doesn't love a new t-shirt?
I know I do.
Getting signed up
Once you've chosen your challenge and decided on whether or not you want some snazzy apparel to go with it, all you have to do next is sign up for the challenge.
Click Sign Up, complete your purchase with your preferred payment method, and wait for your special code to hit your email inbox.
In the meantime, download the Conqueror app from either the Apple Store or the Google Play Store.
Once your code arrives you will be able to sign up through the app and go straight into your new challenge. Click the "join a challenge" option from the list on the lower part of your screen. From here simply paste the code from your email and you will be granted access to the particular challenge route you purchased.
(If you bought some merchandise for your challenge, this will be shipped once you begin progress on your challenge so keep an eye out for the post to arrive.).
Once you're into your challenge, you're ready to go! The whole process from making your decision to being ready to begin your challenge should take about 5 minutes in total.
Yes, 5 minutes.
There is no fuss, no stress, and no long waiting times.
We know that when the motivation hits, you've got to ride that wave and keep it going.
As soon as you're in, you're ready to start exploring the app and logging your distances to make progress with your challenge.
A challenge fit for everyone
You can make things even easier for yourself going forward by hooking up any smartwatches or fitness trackers that you might have. This will make it easier to keep track of your distances throughout your challenge and to make sure that you get credit where it's due. At the moment, you can use a Fitbit, an Apple Watch, Strava, Google Health, MapMyRun, MapMyRide, MapMyWalk, or Runkeeper to log your distances. You can also simply manually track them through the app itself.
There is also a distance converter available to help you figure out what to log if your activities aren't distance-based. So, if you are doing aerobics, HIIT, yoga, or even housework, you can still log these exercises into your app by converting them into equivalent distances first.
This means everyone's efforts count and everyone's exercise is rated as equal.
Just as it should be.
Whenever you are setting up your challenge through the app there will be the option to select your own time-frame, so you can work to your own time and schedule as well as choosing your own activity or exercise.
There is no pressure to complete your challenge by a certain time because we know that everyone has very different lives and different schedules. It is much more likely that we would give up on a challenge if it was something that simply wasn't possible for us to complete.
The challenges available through Conqueror Virtual Challenges aim to give everyone the best chance possible of actually completing their challenge and meeting their health and fitness goals. No one is set up to fail, everyone is set up to win.
But it is also wise to pick a time-frame for your challenge. You need to stay motivated and stay actively working towards a goal, and that's why the time-frame feature exists.
You can pick your own specific goal, but we will still help you structure this goal and keep you working towards it.
Virtual challenges don't just give you random goals, they give you S.M.A.R.T goals – specific, measurable, achievable, relevant, and time-bound goals.
These are the only kind of goals that actually get us where we want to be.
If it's success you're after, it's a S.M.A.R.T goal that you need.
Wishy-washy goals and thoughts of "yeah I'll get round to that sometime soon" rarely get us anywhere at all.
Set a time, track your progress, and stick to it.
That's the recipe for meeting your goals.
Ready to go
After taking all these steps you'll be ready to go off and enjoy your challenge to the fullest.
Doing a virtual challenge is the perfect blend of utility and enjoyment. You will get so much out of it for your body, your fitness, and your health but you will also stimulate your mind while you're at it.
As soon as you start logging distances and making progress along the tracker you will feel the benefits of the various incentives.
There is so much in there to keep you focused and engaged—from virtual postcards, the progress tracker, to your final Conqueror challenge medal.
You can get going and keep going with whatever exercise you want, at any time you want.
You set your own goals and you set your own schedules to meet them.
Every decision is up to you but that doesn't mean that you are alone in the process.
All of the Conqueror challenges are designed to support you as much as possible in completing your journey. Don't forget to also sign up to the exclusive Facebook group once you get started, to make the most out of our community, waiting to encourage you.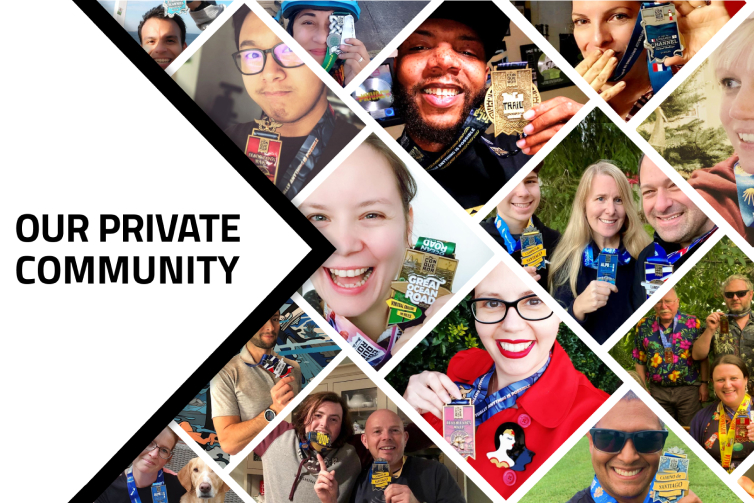 You will receive a private link to this in your email when you have signed up for your challenge and you can follow the steps easily through that link to join the group. You will find so many like-minded challengers on there to help pick you back up again when you have had a hard day.
Never underestimate the power of a motivating community, even if they are people you haven't met face-to-face.
Also, there's no restriction that says you can only do one challenge at a time and so if you find your motivation spilling out over the confines of one challenge, feel free to sign up to another and have that going alongside your current challenge. You could jog for one challenge and swim for another. You can compete alone in your first challenge and then join a team of friends or family for the next one.
There are no limits to virtual challenges or how you enjoy them—all you have to do is enjoy them.
Signing off

Hopefully, our blog today has shown you how easy and accessible the process of signing up for a virtual challenge is.
The only difficulty you might have is picking which challenge you want to start with, because there are so many worthwhile options to pick from.
Whatever challenge you opt for in the end, you are guaranteed to have a great time that will benefit you in a range of ways along the journey.
So, what's holding you back?
Go get signed up and start your journey today.
All that progress is waiting for you on the other side.