Are you looking for a challenge at the beginning of the year?
Are you looking for something that's going to get you back in the game, back into fitness, and back to a healthier version of yourself?
Well, my friend, you have landed in the right place.
This handy blog post is going to tell you all about the best virtual races with medals you can take part in this year to help yourself hit all of those goals.
With 2022 ahead, taking part in a virtual challenge is the absolute best way to get yourself in shape.
Start 2022 ready and fitter than ever by taking part in one of these top 7 virtual races with medals. It will be a decision you won't regret.
Let's go!
The challenge with the best medal: Flower Route
What do you think of when you think of the Netherlands?
Flowers, windmills, colour, and beauty are the first things that come to my mind.
The Flower Route Virtual Challenge takes you on a stunning route from Haarlem to Naaldwijk, spanning 41 miles (or 66km) of the scenic Netherlands landscape.
With The Conqueror's street view feature, you will travel to these beautiful locations as you progress through your own virtual challenge. You could be running in your local park on a grey Monday morning all the while visually experiencing the flowerbeds and riverside views of the Netherlands.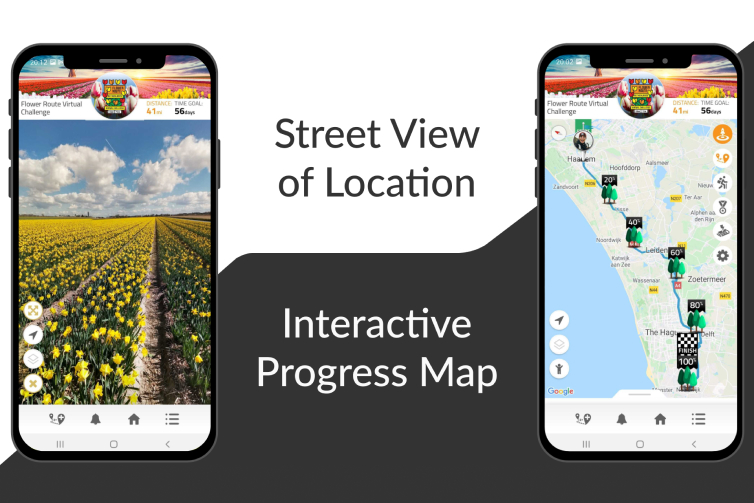 I know which one of those views would be more likely to get me out of bed in the morning.
Four virtual postcards are waiting for you to unlock along this scenic route. The colourful and interesting little gems of information and motivation will land in your email inbox once you hit certain milestones on the route.
The Flower Route Challenge is also renowned for having the most beautiful medal design of all the virtual challenges available. Inspired by Piet Mondrian, one of the greatest Dutch artists of the 20th Century, the colourful and visually striking medal will be something you will cherish forever. It features the tulips and windmills that the Netherlands are so famous for, with windmill blades creating a spinning effect on the back of the medal. How cool is that?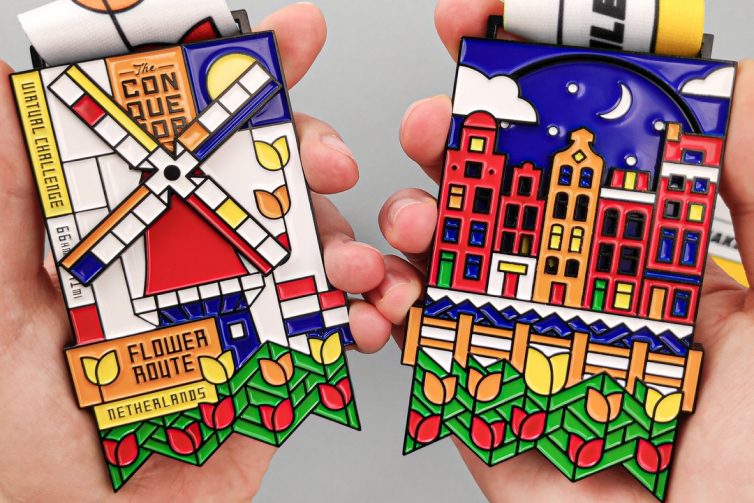 Having such a unique piece of art and achievement in your home will be a talking point of many dinner parties to come, I am sure of it.
The Flower Route virtual challenge encompasses everything that is great about virtual races. You've got all the intrigue of virtually travelling to a beautiful new location, the motivation of working towards a unique goal, the inspiring reward system, and an overall one-of-a-kind exercise experience.
This is one that will definitely get you out and on your feet during the cold winter months to come.
The best challenge for running: Marathon to Athens
Athens is the birthplace of the modern marathon (the first was run in 1896), so it is only fitting that the best virtual challenge for running should be set in the iconic Olympic city.
The Marathon to Athens virtual challenge transports you to that first marathon route, spanning the original marathon length of 26.2 miles (42.2km).
This is a reasonably short distance compared to some of the other challenges and so if you are just starting on your fitness journey, this challenge will be a great way to ease yourself in.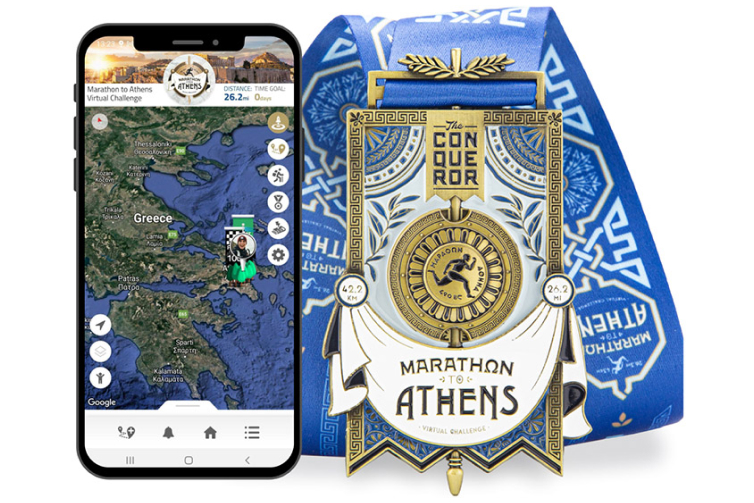 Of course, you aren't limited to running for this challenge. You can log any distance-based activity to reach your milestones – you can walk, jog, swim, skip, hop, or do absolutely anything that comes to your mind.
You can hook up your virtual challenge app with any smartwatch, Fitbit, or distance tracker to make things that little bit easier too.
Sometimes getting back into fitness or just starting out on a fitness journey isn't always easy and we can get overwhelmed pretty quickly. When we are overwhelmed, we are much more likely to give up.
With such an accessible and enjoyable virtual challenge such as this one, you are much more likely to stick at it and reach your goals. Virtual challenges have a 4-5 times higher completion rate than any other fitness programme, and it's easy to see why.
The best challenge for swimming: English Channel
If you are a water bug, this is the challenge for you.
The English Channel virtual challenge takes you along the 21 mile (34km) journey across the width of the English Channel between England and France, passing famous landmarks such as Cap Gris-Nez and Dover on the way.
This one also has a smaller overall distance to be covered by the challenge compared to others, and so, if you are a beginner or doing the challenge entirely by yourself, this would be a great one to get started with.
To keep you incentivised along the way, during the English Channel challenge, you will receive three virtual postcards waiting for you once you reach certain milestones. These postcards will give you information about the real-life locations you have reached virtually.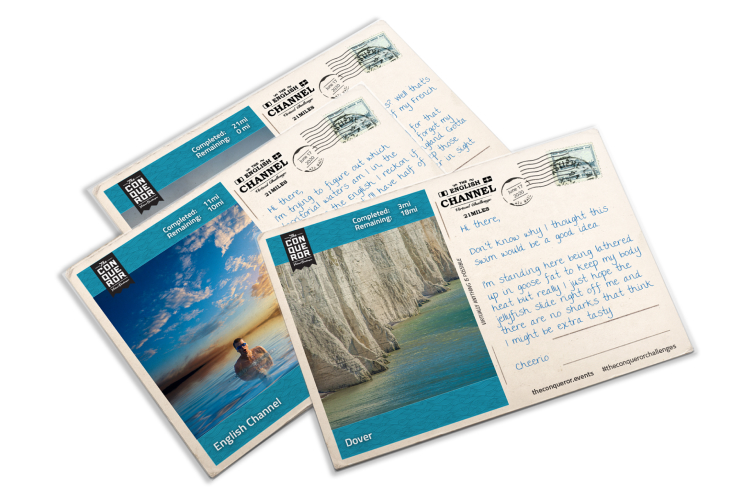 This incentive plus the interactive progress map will have you feeling like you are swimming the English Channel for real.
Once you finish (which you will, I have complete faith in you), you will receive a unique and interesting medal for your efforts. The medal for this challenge has the English Channel on the front and a metal octopus on the back. If you like Pirates of the Caribbean, sea life and cool aquatic creatures, you will love this medal.
Swim, jog, run, or walk your way to victory with this one and watch yourself get happier and healthier along the way.
There's nothing better than watching yourself rise to a challenge, complete it, and improve yourself in the meantime.
Any time you feel like giving up, there will be a reward or incentive to pull you right back up again.
The best challenge for walking: Ring of Kerry
If you've never been to the Ring of Kerry in Ireland, boy, oh boy, are you missing out.
An iconic travelling and tourist route, the Ring of Kerry is a stunning and historic circuit in South-West Ireland. The route features gorgeous ocean views, scenic coastal landscapes, beautiful forests, rivers, and villages. It also boasts significant historical features, including old forts and monasteries.
When you advance along the Ring of Kerry virtual challenge, you will unlock postcards for iconic Irish locations such as Innisfallen Island, Waterville and Killarney. These postcards will give you little nuggets of information about these locations alongside some lovely pictures.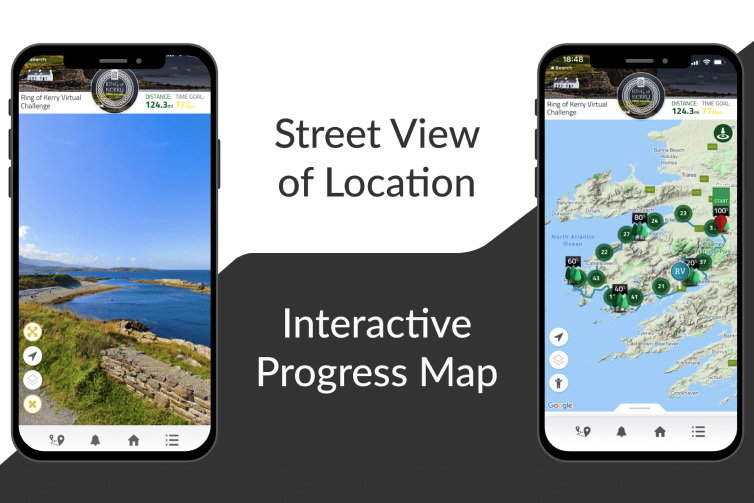 You will feel as if you are really there, with the cool Irish sea breeze in your hair.
This challenge steps up the distance from Athens and The English Channel, spanning 124 miles (200km).
The most popular distance-based activity used to complete this challenge is walking, but you can do whatever you want. You don't have to stick to one activity for the whole challenge either, so no need to put all your eggs in one basket here.
This challenge is also a great opportunity to work as a team and join the motivating Conqueror online community.
When you sign up for your challenge, you will be given access to the online community page where you can connect and chat with other people from all across the world taking part in the same kind of challenges. Whenever your motivation is slowing down, you will have a vibrant and electric community behind you to pick you back up again.
A big part of keeping up with your own fitness journey and not giving up is having positive accountability for your efforts. Your online community can provide that in spades.
Why do it alone when you could have a whole team walking alongside you in the Ring of Kerry Challenge?
The best challenge for walking: Lands' End to John O'Groats
Did you know that you can link your virtual challenge up to your Strava account?
You didn't?
Well, I'm glad you know now before you hear about this next challenge on our top 7 list.
This Length of the UK challenge takes you on a 1,038 mile (1,743 km) road trip from Lands' End to John O'Groats.
This amazing trip will span the length of the UK, passing iconic landmarks and locations such as Edinburgh and Stonehenge along the way. And, of course, during the Land's End to John o' Groats, you will receive some beautiful postcards to your email inbox – but you know that part by now, don't you?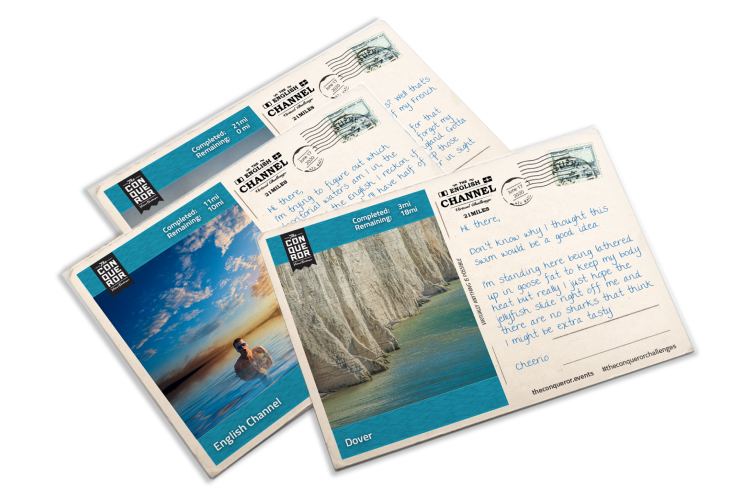 Lejog is best suited to the avid cyclist, long-distance runners, and those with a lot of stamina.
Personal glory, weight loss, and increased health aside, there is another amazing benefit to be had from this challenge, as well as all the other challenges we have available.
Another one? I hear you say.
Yes, another one.
Whenever you advance through your journey, there is an eco-friendly reward in store too. For every 20% of your journey that you complete, The Conqueror will plant a tree in your honour. By the end of the challenge, you will have helped to plant five trees. Think of how many people in our community are involved in challenges right now, and then think of the cumulative difference we could make to the environment with this incentive.
To give you a bit of an idea, there have been more than 4,000,000 trees planted through this programme since August 2020.
So, if you want to cycle, keep yourself fit, enjoy the UK's scenery and save the world all at once, you should probably sign up for The Length of the UK challenge. Probably? Well, maybe you can get those benefits all at once somewhere else.
(Spoiler: You can't).
The best challenge for virtual pilgrimage: Camino de Santiago

This next route on our list is a real trip down history lane for all the history fans out there.
Known for being one of the most famous pilgrimage routes globally, el Camino de Santiago is the journey to the shrine of the apostle Saint James the Great in the Cathedral of Santiago de Compostela, in northwestern Spain.
Joining in on this challenge will allow you to virtually follow the infamous pilgrimage route, gaining access to unique and interesting virtual postcards along the way from important landmarks such as Pamplona and the Santiago Cathedral.
If you love history, culture and anthropology, this is the virtual challenge for you. If you struggle to be motivated by exercise alone and you want something interesting to keep you going, there couldn't be a better virtual challenge for you than this one. There is so much to be learned here, and it is such a unique experience to follow alongside such an iconic pilgrimage trail.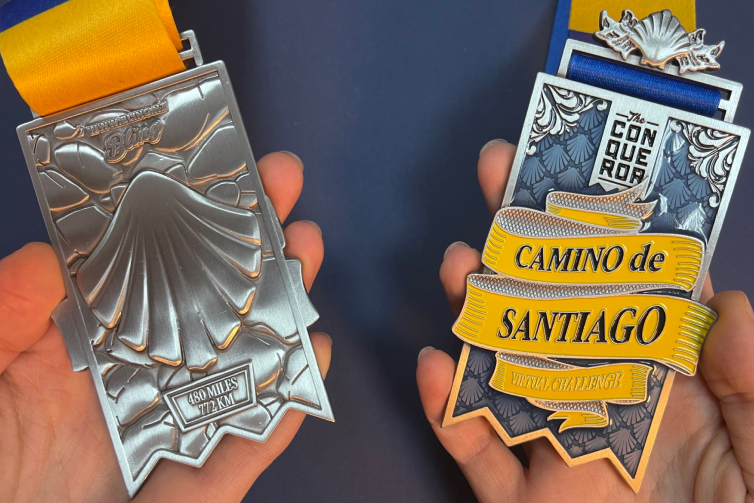 There are 14 virtual postcards ready and waiting for you along the milestones of this challenge. So you won't be short of learning material, exciting facts, or nuggets of history and geography. These short-term incentives will help you stay engaged and motivated throughout your entire challenge experience.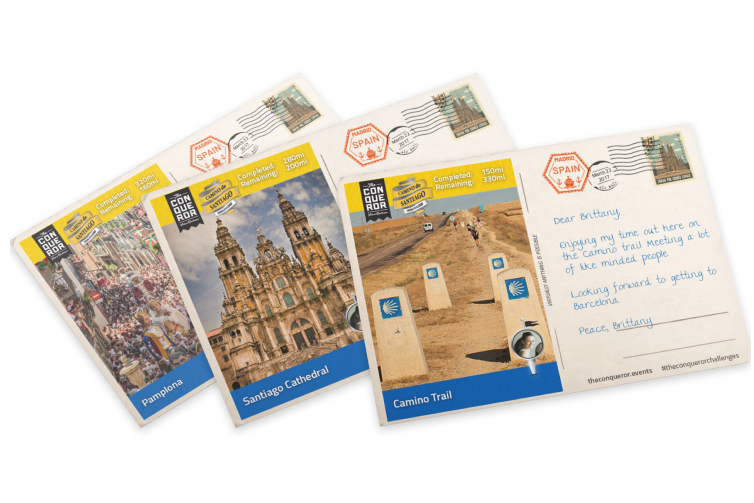 The Camino de Santiago virtual challenge will take you on a 480 mile (772km) journey, and you can complete it with any form of exercise you like. You can pick whatever kind of distance-based exercise that works for you, and you can vary your forms of exercise along the way. This makes the challenge accessible for many people and allows you to modify your challenge to suit your abilities and circumstances.
Alongside the short-term incentives already mentioned, in terms of postcards and milestones, you also have the longer-term incentives available with this challenge to keep your motivation going. You can avail yourself of the online community from the moment you sign up for the challenge and as you are working towards your communal end-goal and your fancy, shiny medal.
Combining these short-term and long-term incentives is the perfect way to keep your mind and body engaged and will help you surpass any wobbly progress you've made with exercise programmes or classes before.
The best yearly challenge: Conquer 2022
With the Conquer 2022 challenge, you have free range to go wherever you want, however you want.
The basic premise of this challenge is that you set your own targets and goals that you want to reach by 31st December 2022. You challenge yourself with your own distance goal – but that is the only part you have to do on your own.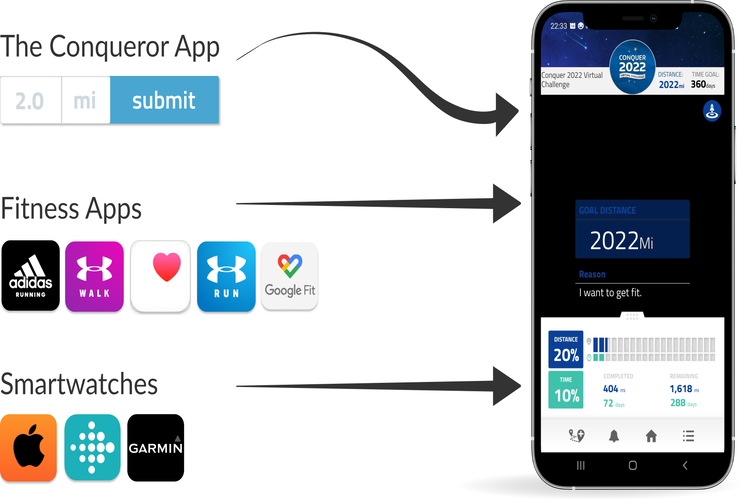 Once you sign up for any challenge, you will receive an invitation link to join a private Facebook group with challengers from all over the world. This means you can connect, share, and chat with people with the same goals as you in order to keep yourself motivated and inspired throughout the entire race.
If you're having a tough day, someone else out there will be too. If you need an extra helping hand, there will be one ready to pull you up.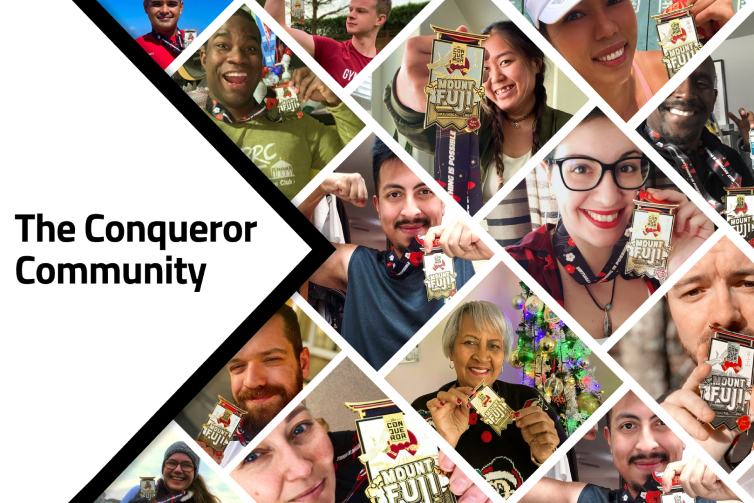 There is so much more power to be gained from connecting with other people in our journey to fitness and health.
You have the reins; you set the game.
Then all you have to do is jump in with both feet and get racing.
You'll have a full team behind you and all the rewards and incentives you could ever ask for.
Once you finish, you will get (you guessed it) a shining medal of your very own. A bright and dynamic 2022-designed medal that will help you to remember your achievement for years to come.
To Sum Up…
There are so many dynamic and unique virtual races you can choose from in 2022.
Whatever motivates you, whatever interests you, whatever helps you get out there and put in the work, you can find it in one of our virtual fitness challenges.
Whatever challenge you pick will help you get in shape, stay in shape, lose weight, gain energy and have a great time while doing so.
You will be helped along the way by a wide range of incentives, both short and long-term, and you will have a whole community of challengers right at your fingertips with our online community.
The only tough decision is which one to go for!