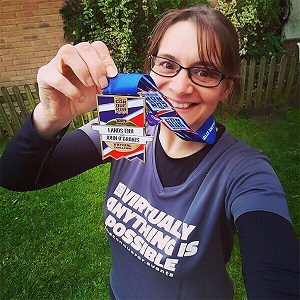 Fabrizio C.
11/11/2019
Absolutely love it! great concept to keep people healthy and in shape for people with busy lives. Comes with awesome medals to be proud of!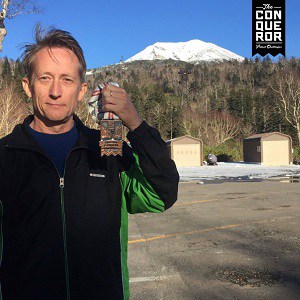 Donna W.
02/09/2020
I signed up for the Route 66 challenge back in Jan. It was done to keep me focused and getting out and about. I'm so close to the finish and have checked almost everyday to see where i was up to. Will be using this company again.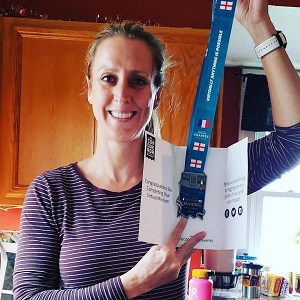 Susan F.
11/06/2018
Four family members have each completed 4 Challenges and have thoroughly enjoyed seeing who was 'winning' on a daily basis. We particularly enjoyed Lejog and seeing familiar places on Street view. We completed a couple of sections for real as they were so local to us. The medals are incredible. Two broken fitbits stopped play but we are hoping 'Santa' will remedy that so play can continue. An excellent idea!
Julie C.
12/27/2017
Completed a 800 mile plus mission across the UK in 2017. Have started a 1000 mile challenge from Boston to North Carolina. Great app to keep you motivated - you can choose where you want to go on your mission and even swim it.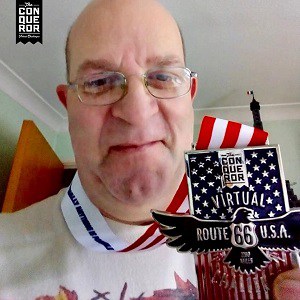 Tina D.
01/16/2020
It's a fun way to keep training interesting as you upload your runs to the app and can look on street view to see where you are along the route. I did the Great Ocean Road challenge so it was nice imaging being in Aus for my runs when the UK weather was horrible ? Will definitely sign up for another soon!
Jeanine W.
11/11/2016
My boyfriend and I started using this app earlier this year and WE LOVE IT!! It is so much fun along with so motivating for the both of us. We love the map along the way and also watching the miles add up over time. Such a feeling of accomplishment. We feel fantastic too!!
Neil B.
12/14/2019
Who doesn't love a bit of bling? I thought this would be the perfect accompaniment to go with my solo English Channel swimming certificate. I needed a bit of motivation to get me back into my training and up to speed after a short sabbatical from swimming. I couldn't resist this lovely Conqueror the English Channel virtual challenge medal. On the back of the medal there's a moulded octopus, I love octopuses ? so couldn't resist.
Stephanie D.
01/12/2018
Great app love checking to see where i am on the map and how i am ranking against my friends.
Mavis M.
04/03/2020
This app help me stay motivated and is pretty easy to use. The fb page is VERY responsive and the moderators/designers are helpful and receptive to critiques.
Michelle H.
11/09/2018
The medals are first rate, but the biggest motivation for me is the ability to track my progress along the route. I love it!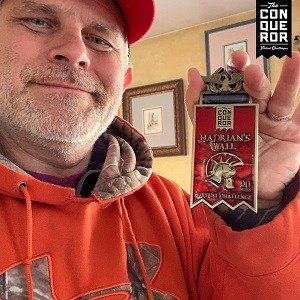 Simon M.
11/09/2019
Being able to see your progress on the map feature is a great motivator.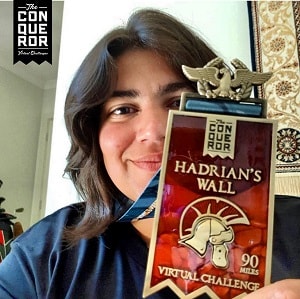 Sven T.
06/11/2020
Did the channel swim, amazing for motivation and increased my fitness level. Now doing the Colorado challenge, loving every bit of it.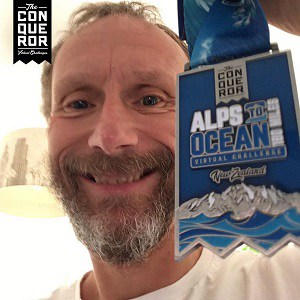 Sheryl W.
11/15/2019
Doing the English Channel challenge with my nephew. Its been awesome! Great way to get motivated, fit, healthy and drop a bit of weight while having fun. Looking forward to our next challenge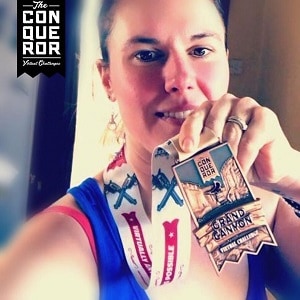 Kelly W.
11/12/2016
Great motivation. Excellent customer service, helpful and quick replies to any questions, seem genuinely interested and continues to improve.
Cheryl S.
01/01/2017
Love getting postcards from the places I run past and seeing my virtual progress on a map.
Katie G.
01/03/2019
This series is great. You go at your own pace and mileage but at the end of the day you receive an award for completing the chosen distance. The medals are good quality and a good incentive to get out there and keep going.
Lesley D.
11/03/2016
Great motivational app. I'm at 4200 miles of a 9600 miles virtual mission. I've used it everyday for nearly 2 years.
Alice M.
12/19/2018
Great motivational tool especially for those that exercise alone.
Emma G.
11/06/2018
Fantastic medals, brilliant to be able to see a map and where you are along the route with others.. and to do it in your time is even better. Great work.
Claire S.
03/09/2020
Such a good motivator to get out and about. The knowledge that all my travel counts towards a medal has motivated me to leave the car at home and commute via bicycle more frequently. The medals are fantastic quality and very satisfying to achieve.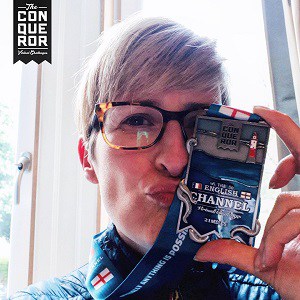 Steve B.
11/09/2018
This has given me the motivation to up my exercise levels to ensure I'm moving more on a daily basis. The medals are stunning and look even better in real life, very good value for money! App is easy to use and syncs seamlessly with my Fitbit so progress is updated nightly. I love the real time map plotter do you can physically see the surroundings of where you are on the trial/challenge. Can't wait for some new challenges... bring them on!!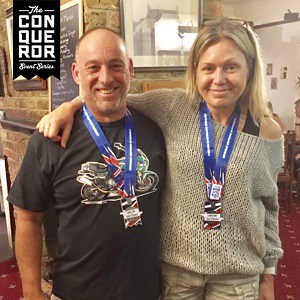 Marrie G.
11/09/2018
Absolutely amazing. My husband and I are currently over half way down route 66. This challenge is so good and so much fun. We love getting the postcards and it really encourages us to do extra exercise to get further. I would highly recommend.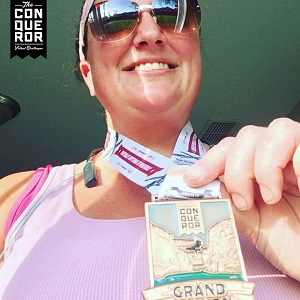 Paul H.
11/05/2018
I have completed two challenges with medals, English Channel and Hadrian's Wall. Currently doing Route 66. I would recommend the challenges available here because they have amazing detailed medals and everything is done on interactive maps so you can physically see your progress, which keeps the focus.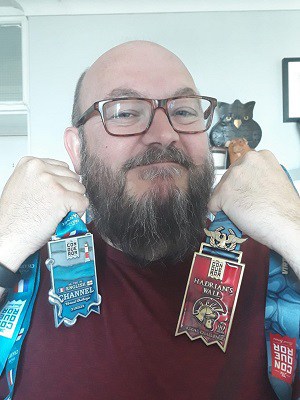 Ian W.
11/05/2018
Just completed Hadrian's Wall virtual challenge! Stoked with my medal, it's amazing!
Melly M.
02/12/2019
Nice little challenges to keep your training going. ???
Roy F.
11/09/2018
Signed up at new year to run Route 66, a great challenge that kept me focused, the tracker helped me complete it well ahead of target, but if you want to take your time these challenges are designed to go at your own pace, I have gone on to complete all the challenges that are available and cannot wait to see what is next. And don't forget the amazing bling!! Go ahead and challenge yourself
Traci A.
11/06/2018
Currently on my 5th Challenge, this time across New Zealand and loving it. Great motivator to keep moving forwards running, cycling, swimming, rowing etc and the bonus is you can see yourself on Google Streetview - oh, and the medals are seriously the best ever!
Adam J.
11/05/2018
By far the best virtual platform I've used, I've so far completed LEJOG, the Grand Canyon, Hadrians wall, and am currently solo running Route 66! the map feature is easy to use and great to track the progress you've made, I also found the digital postcards a great way to update my kids how I was doing with lejog after they entered me for fathers day. The ability to set my own timeline and track my progress against it, and the different distances make this by far the best value for money event I've taken part in virtually or physically. I would highly recommend the conquerer series to anyone looking for a highly motivational challenge.
Mwenda I.
11/22/2019
I've held the view for quite some time now that virtual running and virtual marathons are the future. As a lone runner in my part of the world, I can finally say I belong!! ?️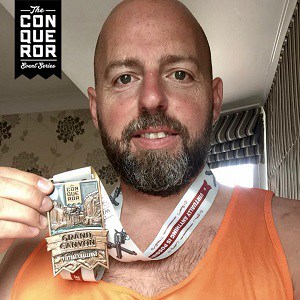 Loretta A.
11/09/2018
Never enjoyed being active as I much as I had doing the Lands End to John O'Groats challenge. The daily checks on the website became an addiction to see the visual progress and helped us finish the challenge earlier than we thought possible. Can't wait to do the next challenge.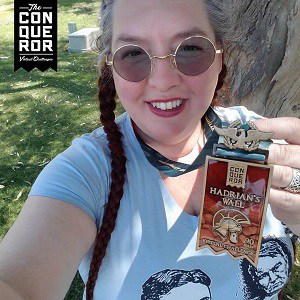 Zoe V.
11/06/2018
Really easy to do, as it links to Fitbit and works away in the background. None of this remembering to update what you've done!! Love the virtual maps as well showing how far you are along the route, real motivation. Postcards along the way also help with the motivation, and also give you some interesting general knowledge of the route you are travelling. Well done guys, keep up the good work!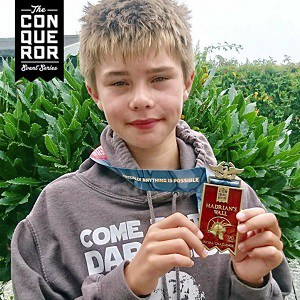 Douglas G.
11/09/2018
It's such a change from your average virtual medal, not only are the medals beautifully designed and made but they relate to the real world. Whether you end up swimming the English Channel, walking along Hadrian's Wall or Running the Grand Canyon the clever little app allows you to see where you would be, what it looks like (using Google Street View) and even track against your intended goal. Unlike most virtual runs (5K, 10K, Marathon, etc.) these challenges are exactly that, something that doesn't require you to be speedy, but rewards dedication and helps to keep you motivated to keep going out and doing those miles. Currently on my third challenge and already know which will be my 4th.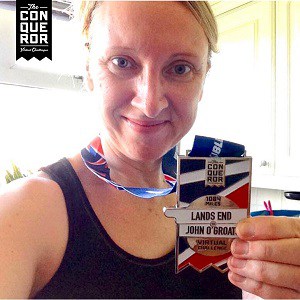 Heather G.
11/06/2018
Been a great way to keep me going each time I want to quit or take a break! Virtual postcards are awesome and the whole family has been following my mission.
Julie D.
11/09/2018
Great fun to track your progress along the map. Links to Google Streetview give you the views along the route. Like the postcards arriving into my inbox from the places I have visited. It really encourages you to get out and exercise to not only beat your own expected progress but also those around you.
Galina U.
11/09/2018
I love Ny Virtual Mission app! It motivates me to get out there and run more. My favourite feature is the street view - it's like traveling to places I've never been to! I'm enjoying my mission much more than I expected - I'm running from Vancouver, Canada, to Mexico City, Mexico.