So you discovered Virtual Fitness Challenges while looking for things to do during the lock-down caused by the pandemic.
You decided to give it a try, yet you are confused and still have lingering questions on how and where to begin.
Don't fret because we are with you every step of the way! The Conqueror will lend a hand to you, just like we did with 100,000 people from all over the world.
The Conqueror Challenges is welcoming everybody from all different parts of the world to join our global community and to achieve their fitness goals.
It's actually very simple, no need for anything fancy! Curious how?
Sign up to your preferred virtual challenge
For starters, browsing the site and choosing the route you will complete can be overwhelming.
The Conqueror Challenges has many adventure series to choose from, ranging from short (less than 70 miles) to extra long distances.
And for beginners, exploring the rhythm on a fitness journey is important.
The English Channel, the Inca Trail, where you can see the breathtaking Machu Picchu, and Hadrian's Wall are good routes to start with for young bloods in the fitness world.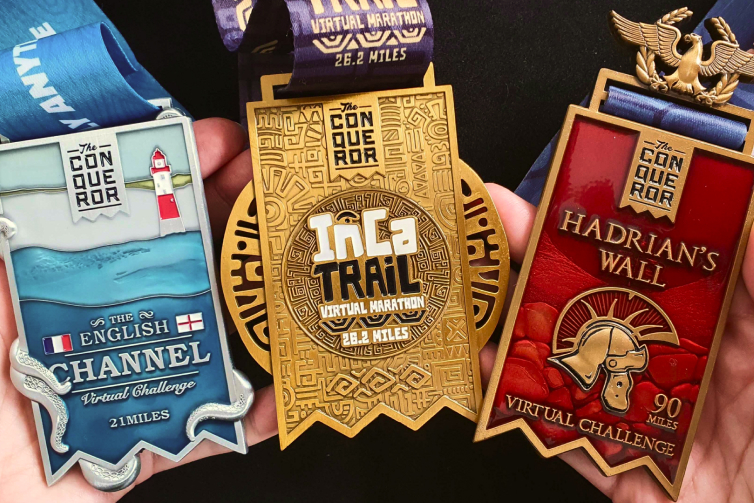 Meanwhile, fitness enthusiasts can go further by trying extra long tracks, including: the Alps to Ocean, Camino de Santiago, Grand Canyon, and, the toughest, Route 66 virtual challenges.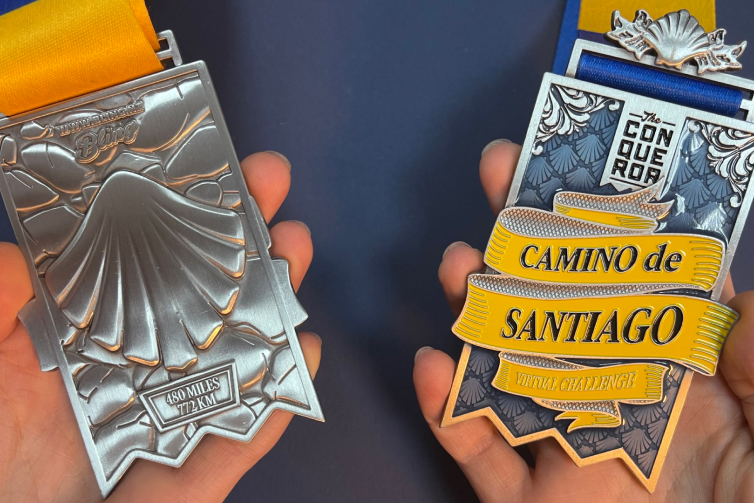 After deciding which challenge suits you, you may now proceed to the next step, which is choosing your preferred virtual challenge package.
It comes with two options: the entry package with a medal or the entry package with a medal and apparel.
You will receive the apparel first, while the medal will be shipped after you finish the challenge.
Do you prefer going solo or do you want to have a team to help you with the challenge? Whether you are more of a solo or a team person, you have the total freedom to choose which option you prefer.
When choosing the path of having team members, it is easier to finish the track by having someone by your side, as each member's posted distance will advance the team up the map. If joining a team, note that each team member is required to purchase their own entry.
After you sign up, an email will be sent to your registered email address containing the code that you can use to enter.
You can join via app.
It is also good to remember that you can only begin a challenge after receiving the code. You may join and start immediately or within 18 months of receiving your code.
And if you feel a little bit more generous, you may also give your code to a friend or a lover.
Set your chosen time-frame
Once the route is established, you may now set the time-frame based on your goals or schedule.
You are free to choose your start date and the deadline before which you aim to complete your challenge. It can range from one week up to 18 months, depending on your preference.
The power is in your hands if you wish to extend or shorten it at any time!
Get active
This is the moment you've been waiting for– the beginning of the real challenge! It is now the time to start running, walking, cycling, swimming or doing any of your preferred distance-based activities.
So you might be wondering what are "distance-based" exercises? This could be running, walking, cycling, and rowing. Any activity that is covers a distance can be counted.
But how about non-distance based exercises? The good news is that these are also acceptable! Other forms of activities or sports like baseball, basketball, boxing, yoga, crossfit, soccer and softball can also be translated into a distance.
We have a handy conversion chart that converts the time spent doing these activities into the equivalent distance.
Record your progress
Your progress and your achievements matter to us. We may not be with you physically to track your distance, but our user-friendly app is widely available on smartphones.
This is how you can log your distance so we can check your progress:
1. You can enter your "distance of the day" manually via the web or through The Conqueror Challenges app. It is free to download in the App Store or in Google Play.
2. The app supports the following fitness trackers, so you can track your distance automatically and with ease: Apple Watch, Apple Health, Google Fit, Fitbit, Strava, Map My Run, Map My Ride, Map my Walk, and Runkeeper.
If you're a fitness buff and if you feel a bit more adventurous, you can actually log and add other distance-based exercises to your existing challenge.
In this way, it is easier and faster for you to reach the end of your The Conqueror Challenges goal.
You can also enter into as many challenges as you want, and log your distance to each challenge.
For example, your cycling distance can be allocated to your Grand Canyon track, while your swimming distance can be counted on your English Channel challenge.
Alternatively, you can simply log all of your distances into all of your challenges.
Unlock your treasures
Congratulations on completing the quest! Finishing the challenge gives you that heart-racing excitement and that adrenaline rush. Celebrate your achievement with a finisher's medal!
We can't wait for you to showcase your finisher's medal! All we need is your complete home address so we can ship it to you immediately.
Just like the apparel, it usually takes one to four weeks for you to receive the medal. The approximate time of delivery depends on the country you are living in.
Our team, on the other hand, will also email your certificate of completion via your registered email address. We will also send you a virtual postcard as an add-on!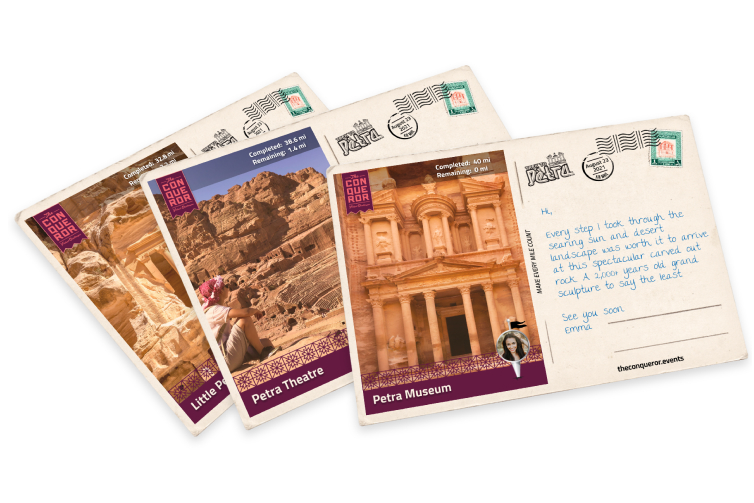 As this will be one for the books, the medal also serves as a great reminder of how you persevered and pushed yourself above boundaries. Undeniably, the medal is also a marker of your gain after the pain.
Whether you are a beginner or a long-time fitness enthusiast, you always have a home with The Conqueror Challenges. Travel the world while achieving your fitness goals all at once. What are you waiting for?
START now and enjoy the journey ahead!